These addictive cannabis-infused medicinal nerd treats can be yours with just a few ingredients and a little time. Hold on to your inner sugar cravings and let's cook!
Features
Step by step instructions with pictures

Options for using different types of gummies

Simple solutions if you don't have a mold
Why You Will Love This Recipe
The My Well With Cannabis community has been sharing their amazing nerd food for months now. We are a team of cannabis and candy lovers who talk about cannabis and food and this recipe is perfect.
After all, what could be better than a sticky bone with a crunchy, sugar-filled outer layer of tangy, crunchy nerds? The only thing I can think of is adding hemp!
Whether you want to use store-bought gummies or make homemade gummies, everyone has the option of making sweet, healing candies at home.
In this article, we'll walk you through the step-by-step process of making these mouth-watering, medicinal edible nerd ropes in all their glory. Keep reading to make sure it's a great edible experience!
Step-by-Step Instructions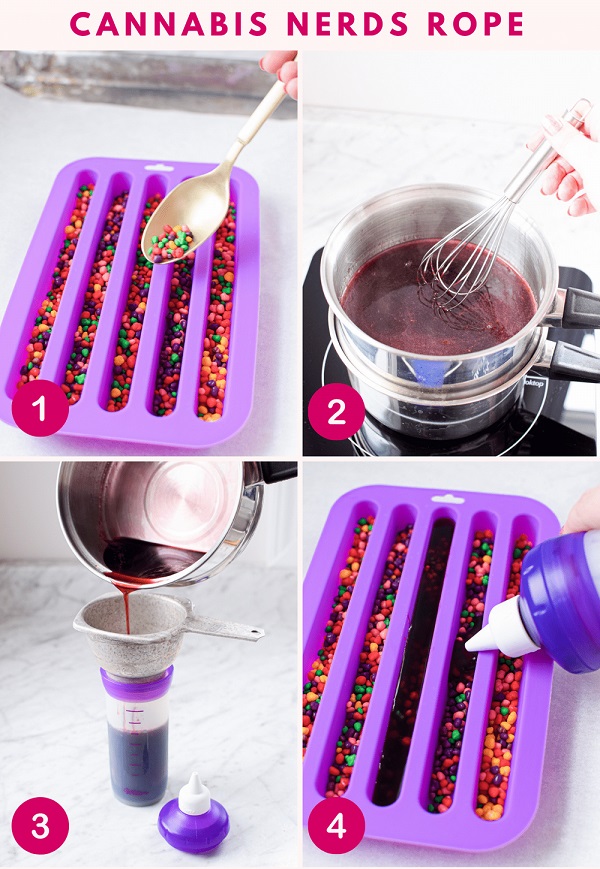 Step 1

– Place your molds

 on a baking sheet. Fill the molds ⅓ of the way with a layer of nerds candies.

Step 2

– Prepare your cannabis gummy product. Find different options outlined below.

Step 3

– Transfer the hot, prepared gummy mixture to a squeeze bottle. If the mix is not already hot, warm over medium-low heat until fluid.

Step 4

– Squeeze the gummy mix on the candies in the molds. Fill ⅔ of the way full.

Step 5

– Cover the gummies with an additional layer of nerds candies.

Step 6

– Allow the gummies to dry in the molds for 30 minutes before removing from the mold.

Step 7

– Toss the gummies in additional candy if desired.

Step 8

– Allow the ropes to naturally air dry for 24-48 hours.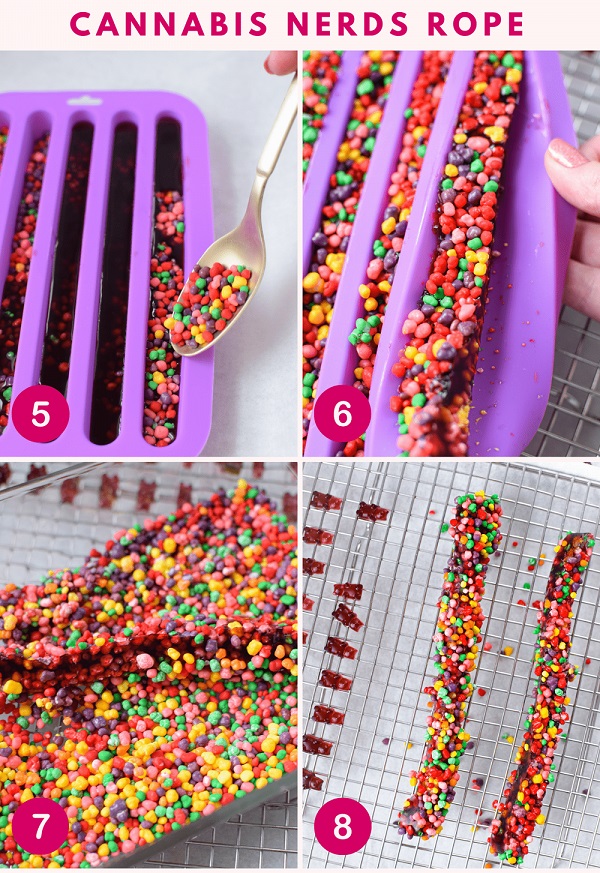 If You Don't Have Molds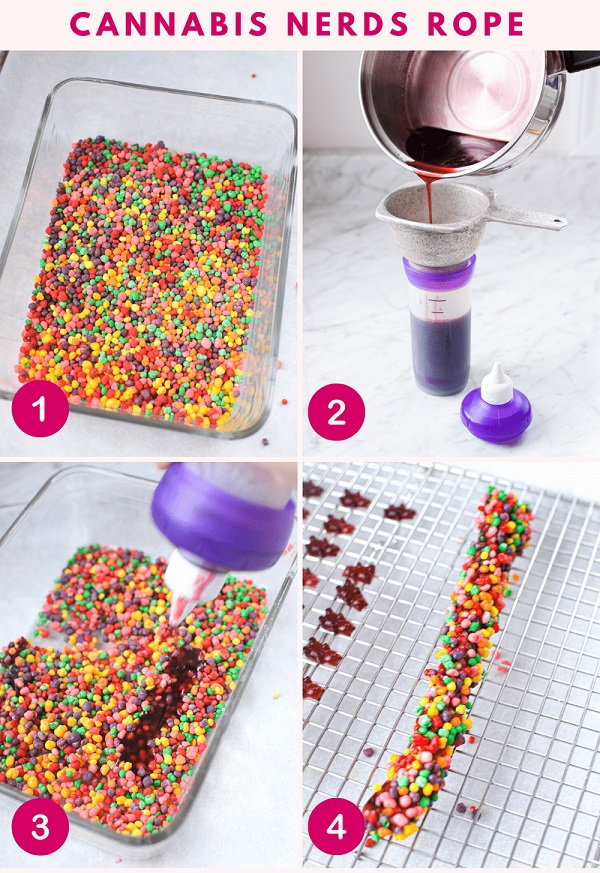 Step 1

– Fill a small baking dish ⅓ of the way full with original nerds candies.

Step 2

– Prepare your cannabis gummy product. Transfer the hot, prepared gummy mixture to a squeeze bottle.

Step 3

– Squeeze the gummy mix into the baking dish. Make gummy ropes or nerds bites.

Toss the gummy around, ensuring it is completely coated.

Step 4

– Pull the final product out of the dish and place it on a reserved sheet to air dry for 24-48 hours.
Storage Instructions
Store these lozenges in an airtight container the next day after air drying. I recommend mylar bags if they can fit all the rope. If you don't have one, reusable kitchen tubs will do.
Alternate Cannabis Infusion Options
As with all edible things, there are several ways to brew something. Below we look at the various ways to prepare this delicious delicacy.
Homemade Cannabis Gummy Mix
If you want to make a jelly mix from scratch, I have three recipes to choose from.
With these recipes, you will have control over the infusion option used and the amount of active THC added. So whether it's 10mg, 50mg THC, or a whopping 400mg THC, you have total control!
And with a homemade recipe, you can use a wide variety of flavors and choose your preferred type of ingredients, from organic cane sugar to corn syrup and more.
Gummies made with butter or oil

Gummies made with cannabis tinctures

Healthy cannabis gummies made with concentrates

–

a great healthy alternative!
Melting Storebought Gummies
While we ourselves have never been successful with this process, I have heard community members melt store-bought gummies like albanese or haribo gummy bears.
After melting, you can mix in cannabis concentrate or a small amount of oil. Again, I haven't been successful with this process, but many others have reported that this variation makes an awesome candy edible in a pinch.
Notes and Expert Tips
Keep your gummy edible out of any humid conditions. This will cause the gummy to sweat and the candies to fall off.

If you're new to edibles, be mindful of your THC dosage. Although you want to have a delightful experience, a fun experience, you don't want to learn the hard way what it means to overconsume cannabis edibles.
Keep out of reach of children. While reaching for nerd rope edibles after a long day of work is amazing, these treats are for the adult sweet tooth only.
Conclusion
Today we figured out what can make lovers of sweets and at the same time those who want to relax happy! There are many different ways to make sweets or chewy bears, you just need to try a little and show a true desire to turn works of art into reality.
But before doing this, be sure to consult with your attending physician.
Frequently Asked Questions
What is the recommended dosage?
This will depend on how strong you want your THC products to be. Consider how strong you want your final nerd rope to be with 10mg of THC? 400mg THC? What is a single dose? Whole rope? Eighth of a rope? What is your tolerance? These are important considerations. Don't overdo these delicious treats!
What flavors should I make?
The choice is yours! If you're making a jelly mix, you can choose your flavor based on the type of flavored gelatin you choose. Cherry lemonade? Blue raspberry? The choice is yours! Find a full range of options at your local grocery store.
Should I use citric acid?
If you want a sour gum, you can add citric acid, but only do this AFTER the gum has air-dried.