Tetrahydrocannabinol (THC) lube is a cannabis-infused lubricant designed to enhance sexual pleasure and alleviate discomfort. This article delves into the unique properties of THC lube, its differences from CBD lube, potential benefits and risks, and frequently asked questions.
What is THC Lube?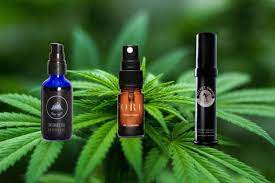 THC lube is a cannabis – infused lubricant that interacts with the body's endocannabinoid system to enhance sexual pleasure and alleviate discomfort. It is distinct from traditional lubricants and CBD lube in its psychoactive effects and legal status.
THC Lube is thus a cannabis-based topical product created by incorporating cannabinoids into an oil, water, or silicone-based lubricant. Although it is primarily intended for use on the genitals to enhance sex, it can also be used on the skin as a massage oil.
Of course, how it can improve your sex life is up to you and your endocannabinoid system. For example, some cannabis enthusiasts say that lubricating with THC makes sex more comfortable, while others insist that it actually enhances sensation, makes sex more enjoyable and even increases the length of orgasm.
Does It Feel Different Than Normal Lube?
The use of lubricants during intimate encounters is a common practice aimed at enhancing pleasure and reducing discomfort. With the advent of cannabis-infused products, THC lube has emerged as an alternative to traditional lubricants, offering a unique sensory experience. This article delves into the nuanced differences between THC lube and conventional lubricants, exploring the underlying mechanisms that contribute to their distinct sensations.
The Role of the Endocannabinoid System
The most significant difference between THC lube and traditional lubricants lies in their interaction with the body's endocannabinoid system (ECS). The ECS is a complex cell-signaling system that plays a crucial role in regulating various physiological processes, including pain, mood, and pleasure. THC lube contains the psychoactive compound tetrahydrocannabinol (THC), which interacts with cannabinoid receptors in the ECS, particularly in the genital area. This interaction stimulates the receptors, leading to enhanced sexual pleasure and arousal.
Consistency
At first glance, THC lube may appear similar to traditional lubricants in terms of consistency and viscosity. However, upon closer examination, subtle differences emerge. The presence of cannabis oil in THC lube imparts a slightly thicker and oilier texture, which may contribute to a more luxurious and enveloping sensation during use. This unique consistency can enhance the tactile perception of touch, heightening the overall sensory experience.
Onset of Effects
The effects of THC lube typically manifest within 15-45 minutes after application, depending on individual factors such as skin sensitivity and absorption rate. This delayed onset allows users to enjoy a gradual build-up of sensations.
Purpose
While traditional lubricants primarily focus on reducing friction, THC lube aims to enhance sexual pleasure by stimulating the body's endocannabinoid system, which plays a role in regulating pain, mood, and pleasure.
The Multifaceted Nature of Sensation
To understand the differences between THC lube and traditional lubricants, it is essential to consider the multifaceted nature of sensation. Sensation encompasses not only tactile perception but also the emotional and psychological aspects of an experience. As such, the sensory differences between THC lube and conventional lubricants can be attributed to their distinct chemical compositions and the subsequent effects on the body and mind.
THC Lube vs. CBD Lube
The Legality of CBD and THC Lubes
CBD lube, derived from non-psychoactive cannabidiol, is legal in most jurisdictions due to its lack of intoxicating effects. In contrast, THC lube is subject to varying legal restrictions depending on local cannabis laws.
Effects on the Body
THC sex lube produces a localized, psychoactive effect, heightening sensations and promoting relaxation. CBD lube, on the other hand, offers anti-inflammatory and analgesic properties without the psychoactive component.
How Does It Work?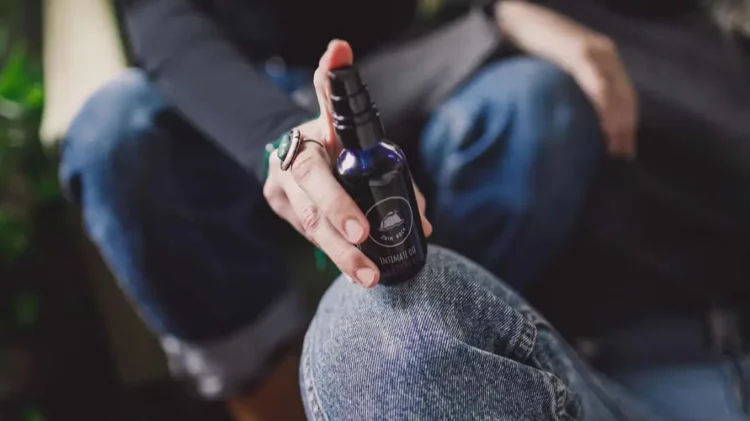 THC lube, like any other cannabis topical, deliver cannabinoids and other compounds directly to receptors. In doing so, they may produce a wide variety of effects, including:
Vasodilation – THC and CBD have both been shown to have vasodilatory effects, meaning they may affect blood flow to the areas at which they are applied.

Impact on sensation – CBD, THC, and other cannabis compounds are being studied for their analgesic and immunomodulatory potential.

Increased sensitivity – By increasing blood flow to the genitals, cannabis lubes can sometimes leave you more sensitive, in a very good way!
At the heart of the cannabis plant lies a complex ensemble of over 100 cannabinoids, each with its unique properties and effects. Central to our discussion are delta-9-tetrahydrocannabinol (THC) and cannabidiol (CBD), the prima ballerinas of the cannabinoid stage. While THC is renowned for its psychoactive prowess, CBD has gained fame for its therapeutic potential, devoid of intoxicating effects. This delicate interplay between the two cannabinoids sets the stage for a fascinating exploration of their roles in the realm of intimate lubricants.
The endocannabinoid system (ECS) serves as the conductor of our sensual symphony, orchestrating a delicate balance between pleasure and pain. Research has shown that the ECS plays a crucial role in modulating sexual arousal, desire, and satisfaction. By interacting with the ECS, THC and CBD lubricants may enhance sensual experiences through distinct mechanisms.
While the scientific literature on THC and CBD lubricants remains in its infancy, anecdotal accounts and preliminary studies offer valuable insights into their potential benefits. THC-infused lubricants have been reported to induce a state of euphoria and heightened sensitivity in users, amplifying the intensity of intimate encounters. This effect is attributed to THC's ability to bind to CB1 receptors in the ECS, increasing dopamine release and enhancing the perception of pleasure.
THC lube works by interacting with cannabinoid receptors in the body, particularly in the genital area. These receptors are part of the endocannabinoid system, which modulates various physiological processes. When applied topically, THC lube is absorbed through the skin and mucous membranes, stimulating the receptors and enhancing sexual pleasure.
Potential Benefits and Uses
THC infused lube may offer several benefits, including:
Heightened arousal and sensitivity

Increased natural lubrication

Reduced pain and discomfort during intercourse

Enhanced relaxation and stress relief

Potential therapeutic effects for conditions such as endometriosis and vulvodynia
Potential Risks and Side Effects
While many users report positive experiences with THC lube, some potential risks and side effects include:
Allergic reactions to ingredients

Irritation or burning sensations

Incompatibility with certain types of condoms or sex toys

Legal restrictions and potential penalties
How to make THC Lube: Step-by-Step Directions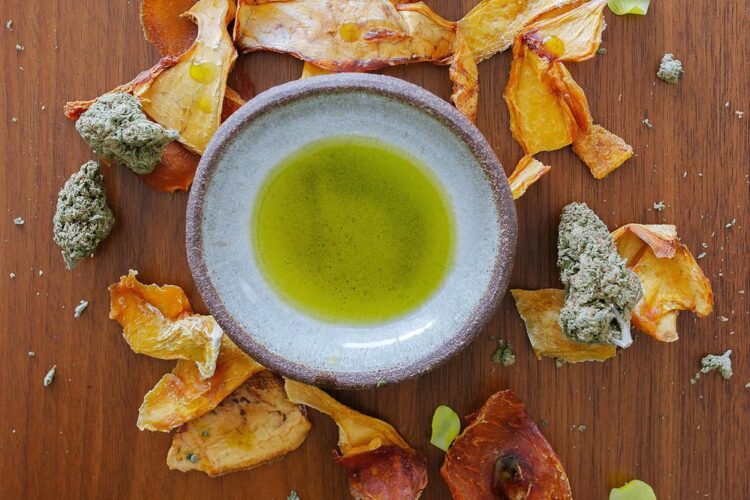 Place your decarboxylated weed or hash into a mason jar with the oil and sunflower lecithin; screw on the lid.

Place the mason jar inside the saucepan.

Pour enough water into the saucepan to cover all of the oil and weed, creating a water bath.

Cook on low heat for 4–5 hours. Every 45–60 minutes, use oven mitts to take out the mason jar and shake for roughly 30–60 seconds. You will need to add more water to the bath regularly.

Remove the mason jar from the water bath and let it cool.

Place a strainer over the second mason jar and line it with three layers of cheesecloth.

Pour the mixture through the strainer. Use a spoon to squeeze as much oil from the plant material as possible.

Put the lid on the mason jar with the oil and store it in a cool, dry place (or wherever you keep your sex toys!).
Summary
THC lube is a cannabis-infused lubricant designed to enhance sexual pleasure and alleviate discomfort. It differs from traditional lubricants and CBD lube in its psychoactive effects and legal status. While it offers potential THC Lube benefits, users should be aware of potential risks and side effects.
Frequently Asked Questions
Does THC lube get you high?
THC lube does not produce a systemic high like ingesting or inhaling cannabis. However, it can create localized psychoactive effects, enhancing sensations in the applied area.
Where can you buy it?
THC lube is available for purchase in licensed dispensaries in regions where cannabis is legal for recreational or medicinal use. Online retailers may also offer THC lube, but shipping restrictions may apply.
How long does it take for the THC grease to start working?
Depending on the lube, the effectiveness, the cannabinoids involved, and your body (including your hormones) it can take up to an hour before the THC lube takes effect.
Is Cannabis or CBD Lube Edible?
Yes. As long as it is made with edible oil or gel, cannabis/CBD lube is totally edible. Keep in mind that swallowing THC-rich lube will get you very, very high!