THCV, short for Tetrahydrocannabivarin, is a lesser-known cannabinoid found in the cannabis plant. While it shares similarities with THC, the more well-known cannabinoid, THCV offers some unique effects and potential therapeutic benefits. THCV is currently being studied for its potential in treating conditions such as obesity, diabetes, and anxiety. In this article, we'll dive into the science behind THCV, its effects on the body and mind, and the current state of research into its potential medical uses. Whether you're a cannabis enthusiast or just curious about the potential health benefits of cannabinoids, read on to learn more about this intriguing compound.
What is THCV?
THCV (Tetrahydrocannabivarin) is a naturally occurring cannabinoid found in the cannabis plant, specifically in some strains of Cannabis sativa. It was first discovered in the 1970s, but its properties and potential therapeutic uses are still being studied today.
THCV is structurally similar to THC (delta-9-tetrahydrocannabinol), the primary psychoactive compound in cannabis. However, THCV has a different molecular structure that leads to different effects on the body and mind.
What are the effects?
THCV (Tetrahydrocannabivarin) has a variety of effects on the body and mind, though its effects can vary depending on the dose, the individual, and the specific strain of cannabis in which it is found. Here are some of the potential effects of THCV:
Appetite suppression: THCV has been found to act as an appetite suppressant, meaning it may help to reduce food intake and promote weight loss. This effect is thought to be due to the way THCV interacts with the endocannabinoid system, which plays a role in regulating appetite and metabolism.
THCV stimulates bone growth. Because it promotes the growth of new bone cells, THCV is being looked at for osteoporosis and other bone-related conditions.
Neuroprotective effects: THCV may have neuroprotective properties, meaning it may help to protect brain cells from damage and reduce inflammation in the brain. This could make it a potential treatment option for conditions such as Parkinson's disease, Alzheimer's disease, and multiple sclerosis.
Anti-anxiety effects: Some research has suggested that THCV may have anxiolytic properties, meaning it could help to reduce anxiety and stress levels. This could make it a potential treatment option for anxiety disorders such as generalized anxiety disorder (GAD) and post-traumatic stress disorder (PTSD).
Potentially counteract some of the negative effects of THC: THCV may be able to counteract some of the negative effects of THC on appetite, potentially making it a useful tool for people who use cannabis for medical reasons but want to avoid the "munchies".
One important health benefit of THCV is its ability to reduce inflammation. While inflammation is an important immune response that can help our bodies fight infection and respond to injury, it can also result in pain and heat and contribute to the development of a number of debilitating conditions.
It's important to note that more research is needed to fully understand the effects of THCV, as well as its potential therapeutic uses. Additionally, the effects of THCV can vary depending on the individual, the dose, and the specific strain of cannabis in which it is found.
THCV vs. THC: what's the difference?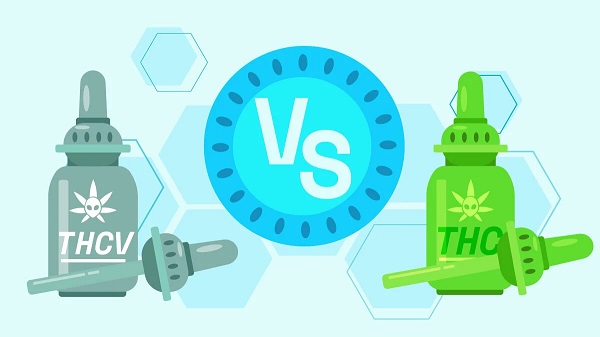 THCV and THC are two cannabinoids found in the cannabis plant that share a similar chemical structure, but differ in their effects on the body. The main difference between the two lies in their interaction with the CB1 receptor in the endocannabinoid system. THC activates CB1, while THCV blocks it, which may explain why THCV is considered an appetite suppressant.
Another notable difference between the two cannabinoids is the amount of research that has been conducted on each. THC has been extensively studied and has more published research on its effects than THCV, which is a relatively new area of research. Nonetheless, there is growing interest in the potential therapeutic benefits of THCV, particularly in its neuroprotective properties and potential anti-anxiety effects.
In terms of health benefits, THC is known for its psychoactive effects and is commonly used for pain relief, inflammation, and nausea. THCV, on the other hand, is believed to have potential benefits for weight loss and diabetes management.
While both cannabinoids share some similarities, the differences between them are important for individuals considering cannabis use for therapeutic purposes.
Does THCV get you high?
THCV, like THC, can produce a psychoactive effect and get you high, but the intensity of the high is not as potent as THC. It takes higher quantities of THCV to induce a psychotropic effect compared to THC. This is due to the fact that THCV interacts with CB1 receptors in a slightly different way than THC, resulting in a less intense psychoactive effect.
It's important to note that the psychoactive effect of THCV can vary depending on the strain and the method of consumption. For example, vaping THCV may produce a stronger high than consuming it in an edible form. Nonetheless, compared to THC, THCV is considered a milder psychoactive cannabinoid.
Overall, while THCV can get you high, it is unlikely to produce the intense intoxicating effects associated with THC. Therefore, if you are looking for a milder psychoactive experience, THCV may be worth exploring. However, it's important to remember that everyone reacts differently to cannabinoids, and it's best to start with small doses and monitor your reaction before consuming larger quantities.
Strains that are dominant in THCV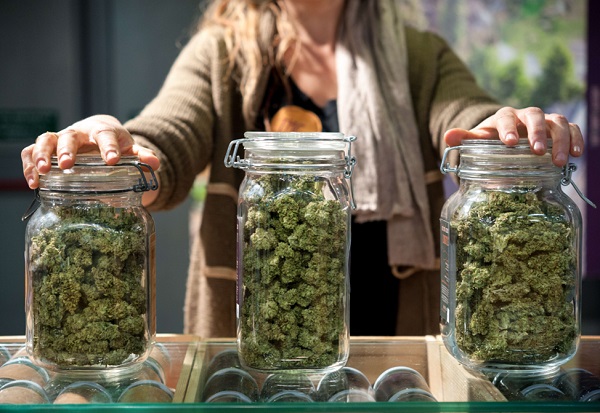 If you are convinced by the potential health benefits of THCV and would like to try it out, you may be wondering where to find THCV products. Unlike CBD, which is widely available in a variety of forms, THCV products are not yet as common. However, there are a few options available. Strains containing high THCV levels tend to be African sativa strains, so look for these first.
Strains high in THCV:
Pineapple Purps
Willie Nelson
Jack the Ripper
Red Congolese
Durban Poison
Power Plant
Durban Cheese (a hybrid strain)
Doug's Varin
Skunk #1
Conclusion
THCV is a lesser-known cannabinoid that has shown promising potential as a treatment for a variety of health conditions. While research on THCV is still in its early stages, early findings suggest that THCV may have a range of health benefits, such as appetite suppression, weight loss, and potential anti-inflammatory and neuroprotective properties.
Compared to THC, THCV has a milder psychoactive effect and is less likely to produce the intense intoxicating effects associated with THC. However, THCV is still a psychotropic cannabinoid that can induce a high, albeit less intense than THC.
While THCV products are not yet as widely available as CBD products, those interested in trying THCV can look for THCV extracts or cannabis strains high in THCV, such as African sativa strains.
As with all cannabinoids, it's important to approach THCV with caution and do your research before incorporating it into your wellness routine. It's also essential to buy from reputable sources to ensure the quality and safety of the products you are consuming. Overall, THCV is a promising cannabinoid worth keeping an eye on as research continues to uncover its potential health benefits.